Click here to see the program pamphlet.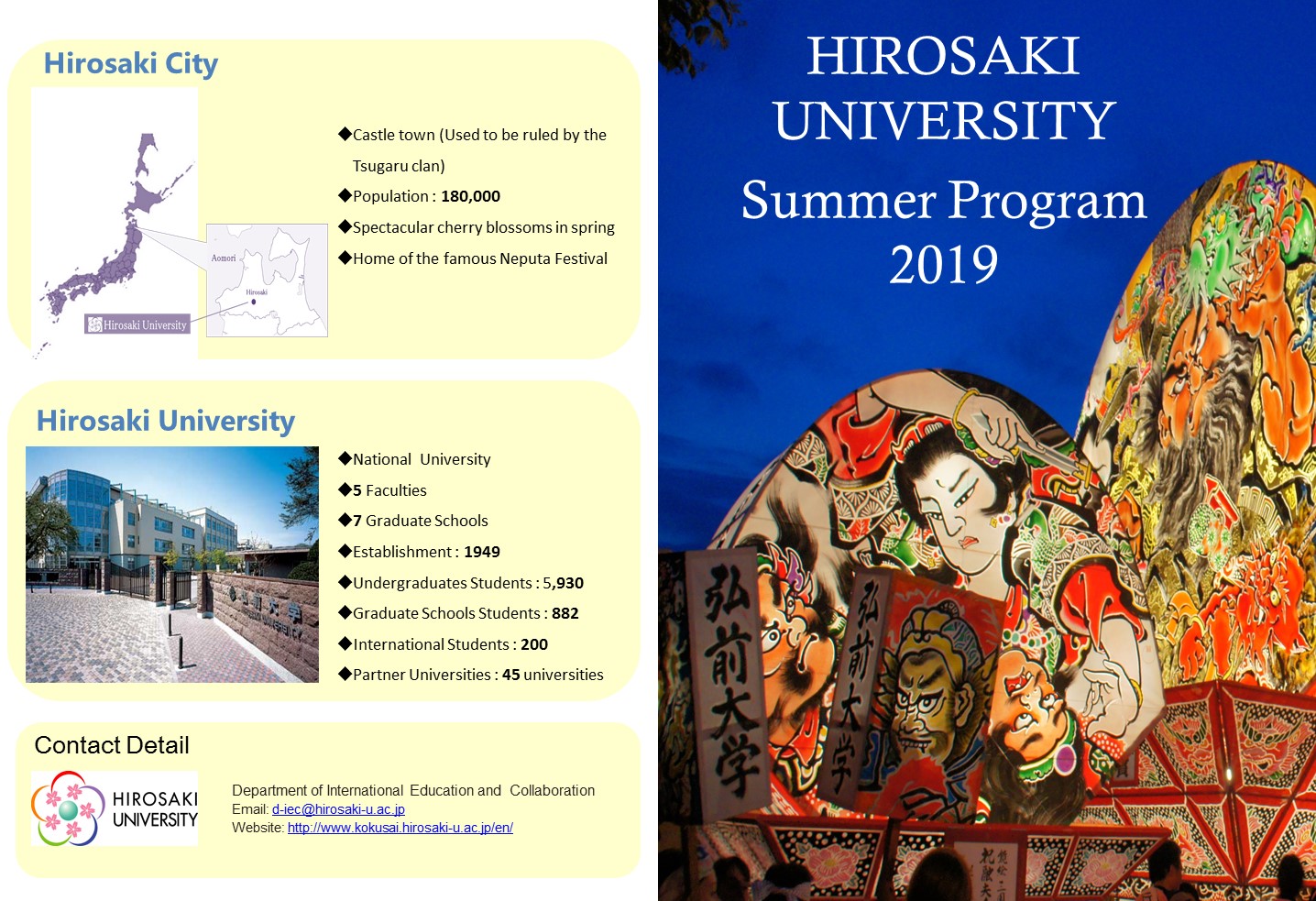 ▶You can read the 2019 participants' feedback here!
Requirements
(1) Participants must be currently enrolled as full-time undergraduate/graduate students in our partner universities/colleges.
(2) Japanese culture classes of this program will be held mainly in English. Participants are expected to have adequate English language proficiency equivalent to IELTS 5.0, TOEFL-iBT61 or TOEFL-PBT 500.
Period
June 10th (Mon), 2019 –June 24th (Mon), 2019, (15 days)
Arrival/Check-in: June 10th(Mon)
Program: June 11th(Tue) – June 21st(Fri)
Departure/Check-out: June 24th(Mon)
Program Content
Japanese Language(Beginner's Level) and Japanese Culture
Credit and Certification
Participants who successfully complete the program will earn 2 credits as follows;
Japanese Language and Culture : 2 credits
Successful participants will be also issued a certificate of completion.
Total Number of Participants
The maximum number of participants to be accepted is 10 in total. Participants will receive notification regarding the results of their application through their home university.
Accommodation
Participants will stay at the International House. The International House is accommodation managed by the university for international students. We offer participants one bedroom or two bedrooms apartments. Each apartment will be shared by 2 or 3 participants. Each apartment has a living room and bedroom(s), a bath room, and a toilet. Additionally, beds, a desk, a desk lamp, a bookcase, a vacuum cleaner and a washing machine are provided.
Address: 2-20-17 Kikyono, Hirosaki, Aomori 036-8227 Japan
※The international house does not have towels, detergents, toiletries and toilet paper.
※Accommodation may be changed depending on the number of participants
Program Fees
(1) Application fees and tuition fees are waived.
(2) Participants are required to pay for their own:
Flight ticket
Travel expenses to and from Hirosaki
Travel insurance
Accommodation (including bedding, cleaning and utilities such as electricity, water and gas): approximate: 30,000JPY
Activities: approximate 20,000JPY
Food: it depends on what and how much you eat
Any other personal expenses
※We will collect accommodation fee, activities fee and textbook fee at the arrival orientation.
Please make payments in Japanese cash. Credit cards, traveler's checks, and overseas remittance are not accepted.
Application Procedure
The following HIROSAKI UNIVERSITY Summer Program application documents must be submitted to the exchange coordinator of the participant's home university by the application deadline.
(2) SELF DECLARATION OF HEALTH(Form2)
(3) PLEDGE(Form3)
Application Deadline
March 29, 2019
Notice
All participants are required to purchase travel insurance in their home countries before departing for Japan, and to e-mail a copy of the insurance policy with the English or Japanese translation (when it is not in English or Japanese) to Hirosaki University.
Contact Detail
e-mail: d-iec@hirosaki-u.ac.jp
Department of International Education & Collaboration
Hirosaki University
1 Bunkyo-cho, Hirosaki, Aomori 036-8560 Japan
Website: http://www.kokusai.hirosaki-u.ac.jp/en/